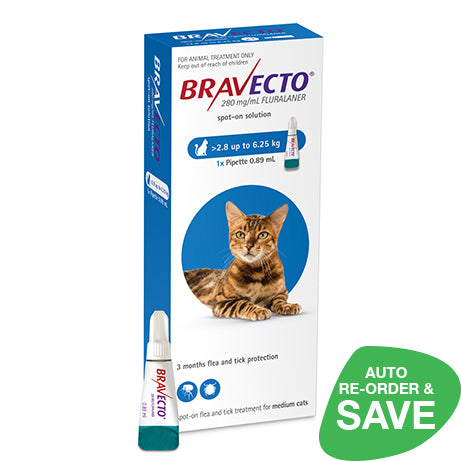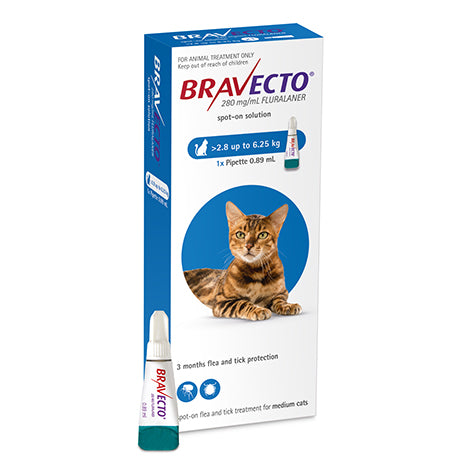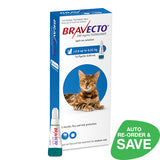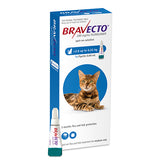 Bravecto Spot-On Medium Cat 2.8-6.25kg
For the control of flea and tick infestations on cats for 3 months
Bravecto is available as a spot-on flea and tick treatment for cats – providing 3 months protection. For optimal control of tick and flea infestation, the Bravecto spot-on should be administered at 3 monthly intervals. Bravecto spot-on can be administered all year round. For use in cats from 11 weeks of age and over 1.2kg.
This is a single treatment pack suitable for medium cats weighing 2.8-6.25kgs.
Treats and controls existing flea and tick infestations
Sustained control of new flea and tick infestations
Part of a treatment strategy for the control of flea allergy dermatitis
Highly effective against fipronil resistant fleas
Bravecto spot-on solution contains fluralaner, a systemic insecticide and acaricide with a long duration of action that provides immediate and persistent tick (adult and juvenile Haemaphysalis longicornis (NZ endemic tick) and flea (Ctenocephalides sp.) killing activity for 3 months.
Fluralaner has a high potency against ticks and fleas by exposure by feeding, i.e. it is systemically active on target parasites. Fluralaner is a potent inhibitor of parts of the arthropod nervous system by acting antagonistically on ligand-gated chloride channels (GABA-receptor and glutamate-receptor).
Flea Treatment, Control and Prevention
The flea lifecycle is broken due to the rapid onset of action and the long-lasting efficacy against adult fleas on the animal and the absence of viable egg production.
The product contributes towards the control of the environmental flea populations in areas to which treated cats have access.
Newly emerged fleas on a cat are killed before viable eggs are produced. An in vitro study also demonstrated that very low concentrations of fluralaner stop the production of viable eggs by fleas.
Bravecto spot-on solution reduces the flea challenge experienced by the animal and aids in the treatment strategy for flea allergy dermatitis.
To obtain maximum flea control, it is recommended that all cats and dogs in the same environment are treated. Cats and dogs may be exposed to fleas when they go outside and they can carry these back into the home.
Where do I place the Bravecto spot-on solution on my cat?
The product should be applied in one spot (cats up to 6.25 kg body weight) or two spots (cats greater than 6.25 kg bodyweight) at the base of the cat's head.
It is important to deliver the solution onto an area that cannot be easily licked by the cat. As cats are fastidious groomers, they may inadvertently ingest product if easily reached. Ingestion may cause adverse reactions, and will remove product from the coat.
If multiple cats are treated and may mutually groom, it is recommended that cats are separated while product dries.
DELIVERY INFORMATION
Once you've placed your order it'll be be sent to the warehouse to dispatch. We'll be in touch via email or phone if there are any problems with your order. Track and trace details are emailed once your order is scanned into the NZ couriers network.
PLEASE NOTE: due to Canterbury Anniversary Day 17 November there will be no dispatches to South Island addresses on this day. Orders placed after 12 noon on Thursday 16th November will be dispatched after the long weekend.
See SHIPPING & DELIVERY for more information. 

Our Shipping Info
Once your order leaves our warehouse and is scanned into the New Zealand Couriers network you will be sent track and trace details via email. You can use these track and trace details to keep an eye on your order, and when it will be delivered.

Payment Options
Payment is required when you place your order, you can checkout with your credit card, via online banking or in instalments with Afterpay or ZIP. Note: Your order confirmation is your tax invoice, as we endeavour to become more environmentally friendly, we no longer print and include copies of tax invoices with orders

Our Loyalty Programme
Qualifying purchases made on auto re-order qualify for our loyalty programme. Almost all our premium vet diets, and vet recommended flea and worm treatments are included in the loyalty programme.