10% OFF these brands everytime your auto re-order processes!
Some exclusions apply. Please refer to terms and conditions below.
Our trusted auto re-order service saves you time, energy & money!
Online Vet Store was created because although Veterinarian Ben was at the clinic all day, he frequently forgot to bring the dog food home, and over many years, made several trips back to the clinic to get it.
Setting up an auto re-order gives you the ability to tick "Buy Pet Food" off the shopping list forever PLUS you have the opportunity to save money* by either getting a discount at the time of purchase, or free stock!
Choose the interval you want your food delivered and we will automatically dispatch it to you, meaning no more empty food bowls.
HANDY TIP: Set up your flea and worm treatments on auto re-order too. Set the dispatch dates to the treatment interval, then, when it is delivered, you automatically know it's time to treat! Your pet will always be covered - but best of all, you don't even have to think about it!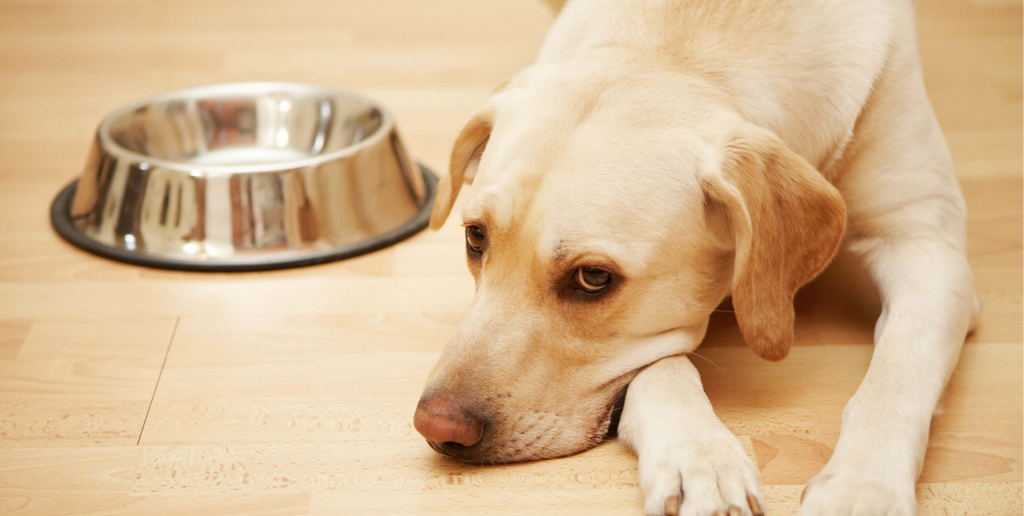 Every time your auto re-order processes it gets you closer to FREE PRODUCTS!
You can keep a track of your purchases, or we can do this for you and dispatch the freebies when it suits you best. It's up to you! Some exclusions apply. Please refer to terms and conditions below.

Free delivery over $39
We dispatch from both the North and South Island, so your order gets to you faster - and if it's over $39, it's FREE. We send you track and trace details via email once it leaves the warehouse.

Save time, energy & money
To say thanks for your loyalty the cost of your auto re-order could be discounted, or some of the brands even give you free stuff!! Our customers tell us getting the free food always surprises them, it doesn't take long to get to the free stuff!

No empty food bowls or missed treatments
When it comes to din dins time, with your pet's food on auto re-order, there will always be something in the bowl. Plus keep your pet healthy with regular necessary flea and worm treatments!
1. Choose your products
Find the product you want to purchase, select "Auto re-order - set and forget!", choose your timeframe and select "add to cart".
You can do this with multiple products at different intervals. It's great for flea and worm products too - it takes the hassle out of remembering when you need to treat.
DISCOUNTS are applied in your shopping cart at time of checkout.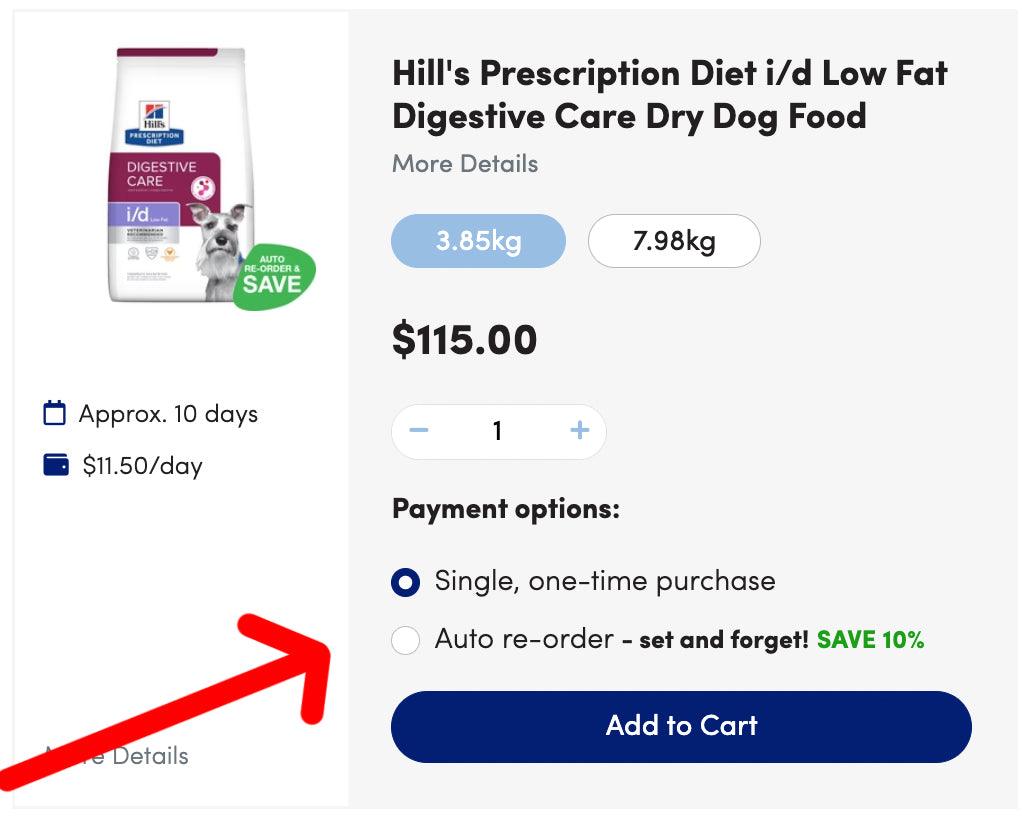 2. Check Your Cart
Double check your dispatch intervals are correct, before you checkout.
Once you're happy, checkout and pay by credit card.
If you are unsure about the interval you can amend the timing of your future orders, add or delete products depending on what you need, when.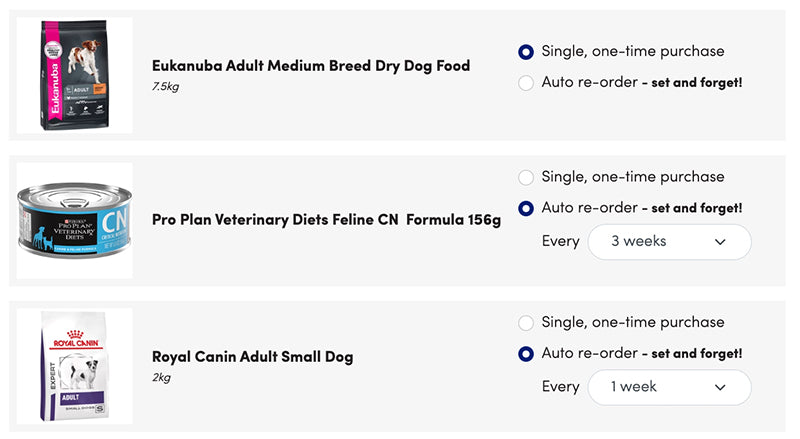 3. Relax and enjoy your day
Rest easy in the knowledge that before you next run out of pet food, it'll arrive on your doorstep. Giving you more time to spend doing what you love doing with your pet.
Please note that your order confirmation is also your Tax Invoice. We endeavour to become more environmentally friendly, as a result we no longer print invoices for inclusion in your order.
Frequently Asked Questions
Payment for this type of order can only be made via credit card. You make your first purchase (as above) at the checkout, then when each future auto re-order is processed, it recharges this same card. You will have the ability to see how your payments are processed and can change your card details at any time if things change by logging in to your account.
3 days prior to your auto re-order being dispatched, we will send you a message reminding you about it. You will have the ability to change the time frame of the dispatch if it does not suit.
Delivery of your order can be from 2 to 5 business days after dispatch. Rural deliveries may take up to 5 business days.If your order does not arrive within this time frame, please contact us via email: askus@onlinevetstore.co.nz stating your order number, which is generated at time of purchase. If your order contains multiple items, you may receive multiple deliveries to complete your order.
You can log into your account and manage your auto re-orders at any time.Click on Manage Auto Re-Order(s) to change dispatch dates, alter addresses and add or change products.
You can log in to your account, view and manage your products at any time. Sometimes prices adjust for the better when we're running promotions, sometimes the price increases as the brands implement their price adjustments. When you get your reminder above - this is always a good time to check in and do this.
Please refer further up the page for the brands involved in the different auto re-order loyalty programme. Please note Black Hawk is not on the list above, and is NOT included in the loyalty programme. Please see below for any exclusions and conditions that may apply.
The Program applies to the brands listed above for consumer purchases of dry food 1.5kg or larger, pouches by the box and canned food by the tray. (Please note: Black Hawk is not included in the loyalty programme) Qualifying discounts are applied at checkout, or free product is to be of the same brand/product range and is to be the equivalent of the smallest bag purchased and can only be redeemed once all purchases have been paid for and dispatched from Online Vet Store. All qualifying purchases must be made within an 18 month period of the first qualifying purchase. This initiative may be altered or cancelled at anytime, without notice. Exclusions from the auto re-order loyalty programme are: Royal Canin Endurance 4800 and Royal Canin 16kg or greater sized bags, Eukanuba 17kg or greater bag size bags of dry dog food. The auto re-order loyalty programme may from time to time exclude other products on sale or special promotion.
Most customers free stock and notifications are managed personally by our customer service team. However if you still have a physical loyalty card, you can email us a picture of your completed card to: askus@onlinevetstore.co.nz or you can call the customer service team directly on 0800 838 786 and they can access all your purchase records and can verify your qualifying free stock.
Only purchases from the Online Vet Store can qualify for the auto re-order loyalty programme. Purchases made in vet clinics, pet supply shops or other online retailers are not included.

Our Shipping Info
Once your order leaves our warehouse and is scanned into the New Zealand Couriers network you will be sent track and trace details via email. You can use these track and trace details to keep an eye on your order, and when it will be delivered.

Payment Options
Payment is required when you place your order, you can checkout with your credit card, via online banking or in instalments with Afterpay or ZIP. Note: Your order confirmation is your tax invoice, as we endeavour to become more environmentally friendly, we no longer print and include copies of tax invoices with orders

Our Loyalty Programme
Qualifying purchases made on auto re-order qualify for our loyalty programme. Almost all our premium vet diets, and vet recommended flea and worm treatments are included in the loyalty programme.